– – –
Busy to the max?? Maybe sometimes it will make us feel like a robot but the fact is we are paid to do it and we have to do the best upon what we have been receiving. Then go and take a short break or even one night stay to refresh and collect the positive energy from the nature.
SEA? Yeahhh!! Perfect!! It is the answer for me. I don't know whether it will suit you or not.
After seeing the picture above, I am recalling about the innocent question which was always being asked when I was young?
Why does the colour of the sea breeze is white but the colour of the sea water is sometimes green, light brown, or even transparent??
I don't know the answer for sure. Do you have any idea of it?
Tell me the answer publicly through the comment column and let's find the serenity at Sri Racha in Thailand.
Sri Racha
A city which located at the east cost of the gulf of Thailand. A city that well known with its super delish chili sauce. It took around one to two hours to reach there from Bangkok City. It was a sunny day when I reached there and make sure you will be having the same weather when you have arrived there.
This city is located at the sub district of Thailand that known as Chonburi Province which is close to Pattaya City and Bang Saen City. So, when you are having your trip to Pattaya, maybe you can make a turn to this city and see the lifestyle of the people that totally different from the people of the central city.
Read More > Own The Resort And Be The One Day BOSS!
Where should we go?
This time I choose to stay at Balcony Seaside Sri Racha to become the one day boss. It was so interesting because it had only a few guests at that time and I loved it so much. For sure, the services will be given more to me at that time. #lol
Travel Buddy! Please enjoy the whole hotel while you can, because you have paid for it. Grab your right to be served as a guest with some compliment though.
After my arriving, I saw a go cart came towards me and stopped right in front of me. The fully uniform driver with his great smile welcoming me to ride on it to the to the main lobby. No need to be called, they came by themselves. Wish you could be served like this during the peak season.
Let's Go!! What are you waiting for??
Before getting off the go cart, the two bellboys were ready to grab your bag and help you to take care of it. Actually, I forgot to take out my wallet at that time, but I lost nothing from my bag!! Awesome!!
Let's have a break at the lobby after doing the check in or maybe we should go to see around as well? What does this hotel have?
Just like the other commercial hotels, it has a massive lobby that I think I can play "Hide and Seek" there. You will find more than three types of sofa that you can choose to sit on.
One thing that noticed me the most is this one at the picture below! I know it's only a decoration for the hotel but it's so calm and nice to be seen! Anyway, I don't know why I like these things so much. I felt they were a perfect combination to show simplicity, tidiness, and calmness that reflect the hospitality industry to give a massive convenience to the guests. It still remained a question why this hotel use the boat as their logo. However, the design of this logo directly hit my head that the investors are coming from Japan exactly! I have learnt how to make this shape with origami paper since I was at my playground level. So did you!
What else?
Anything else? Yes! What is it, Fred? The Map board. #lol
Actually nothing special with the map board because the staff had already explained all the facilities of this hotel at the receptionist.
BUT I have one thing to show before going to the room! Check this out! It's perfect to do the selfie now!
How can I find this hotel???
Hey! Travel Buddy! You have gotten to book this hotel through Staydilly.com NOW!!
The reason why you should have to click to this website is because you will be displayed with lots of hotels that will give you the best promotion! Try it and redeem your click to 60% discount! While you can save up, why you have to spend more?
Luxury Hotel Rooms at Deep Discounts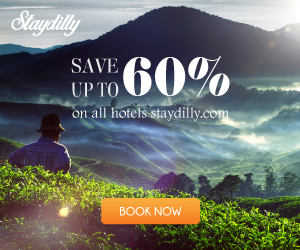 "Staydillly.com" > Click it on!
– – – – – – – – –
Check Other Articles > Click Here
– – – – – – – – –

Follow Me On >>
Thanks for Following Me!
Discover Other

Shocking Info/News

!
loading...